"If it wasn't for Charles' kindness I never would have become a Luthier" says Paul Schwartz, Owner of Peekamoose Custom Guitars, LLC in NYC. In the fall of 1972 close friend Jon Benjamin introduced Paul to LoBue because his first electric guitar, a 3/4 size Regal was having problems. Jon, on the recommendation of his guitar teacher, bought a tricked out Mustang from Guitar Labs at 701 7th. In '69, Jon and Paul became friends while attending McBurney in NYC. By '72 at 16 they were playing guitar. Jon knew Charlie could help Paul with the Regal. Jon was attending Friends Seminary in NYC and Paul was at Vermont Academy. Jon and Paul played together during High School. They were two buddies in a pack of kids who jammed together as was the fashion back then.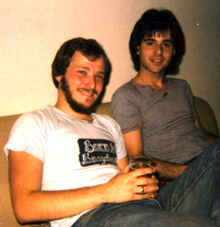 LoBue said, even if repaired, the Regal being 3/4 scale would always have intonation problems. Charlie encouraged Paul to find an affordable standard scale guitar. Paul trotted two or three used guitars by Guitar Labs on weekends home. All had problems where the cost of repairs out weighed the value of the guitar. Charlie was amazing; he wouldn't let Paul buy an instrument above his total cost range, even if part of that cost could mean repair work for Guitar Labs. Today Paul passes on the same instrument value lesson he learned from Charlie. If possible, he won't let clients make foolish purchases.
Paul was home during winter break and went to visit Guitar Labs. Charlie said there was a LoBue Custom being returned. It was made for a guy who decided he didn't like the neck shape. Charlie said: "When it's back, come down and play it. If you're happy, you can have it for $315. Paul got his LoBue during winter break in early 1973. Between winter and spring, Schwartz wore the finish off the neck and part of the body. He was in 11th grade and playing three hours a day. Over summer break '73, Paul came home. LoBue had just moved Guitar Labs from 701 7th to 206 Thompson. Paul went to visit and showed Charlie the instrument asking if there was a way to protect the wood and prevent further wear. Paul wasn't thinking of warranty support, he simply wanted to take better care of his guitar. Charlie asked if Paul could bring the instrument back in the late fall or winter when he could easily refinish the instrument as warranty. Charlie explained he'd just moved Guitar Labs and needed to catch up on existing work. Paul asked if there was any alternative because by fall he'd be back in Boarding School, and life without his prized LoBue Guitar was a fate worse than death. Charlie replied, "Let me think about it". So Paul talked with Woody Phifer while Charlie went to work on something else.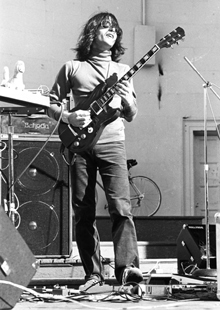 LoBue came back a few minutes later saying, "how about this: My guys will break down the guitar, I'll show you how to strip and sand the wood to prepare it for lacquer, then I'll refinish and reassemble it. If things go smoothly, you'll have the instrument by the end of the summer if not sooner." Paul asked: "So I get to be here, learn about working on guitars, and my axe gets refinished?" Charlie said Yep. Paul agreed. That became Paul's Guitar Lab internship. He sorted parts, started clients by taking contact information and instrument details. Paul did whatever he could as a green 17 year old to help, and stay out of the way when it was time to hang back. "I was a kid not a pro. These guys were amazing, and I was just thrilled to be there".


Paul remembers Guitar Lab as a fun place to work. The celebrities were awe inspiring and icing on the cake of being surrounded by Charlie's talented crew. One afternoon Richie Fliegler came in with a new pair of 6" platform snakeskin boots. Charlie hiked up his pants, put the boots on, and marched around in a rock star like posture. Charlie loved to have fun. For Paul, working the front desk was a favorite spot since he would see everything and meet amazing people. He remembers the first time meeting Rick Derringer, who came in carrying his 2 LoBue Custom Explorers. It was especially memorable because while Rick hung out he played all this killer Jazz. Paul, only knowing Rick's rock and blues background was totally impressed.

It was a remarkable working environment. Charlie had a team of great guys. Their skills and personalities worked beautifully together. Serious attention to detail was balanced with well placed fooling around. Steve Blucher, whose workstation faced the entrance of Guitar Labs had a Groucho Marx style of humor. Charlie sometimes referred to his wiring wizard as "Negahertz". A playful chiding when Steve would greet regular clients with a well-intentioned verbal torpedo. Paul remembers meeting Steve Hunter who was playing with Lou Reed on the Rock and Roll Animal tour. Paul didn't recognize this unassuming guy; Charlie walked up and said "Paul meet Steve". They shook hands. Hunter was carrying an alligator pattern chipboard case with that famous Les Paul Jr inside. Unfortunately, the neck and body were in two pieces. Charlie asked Steve which did he want to save, the neck or the body? Hunter replied, the neck. So a new body was made with an appropriated neck joint to support the repair. This was the day Paul's LoBue Guitar's refinishing repair was completed. Charlie handed Steve Paul's guitar to check out. "I was blown away by Steve's playing". But, it wasn't until that night at a party while I had the Rock N" Roll Animal album open in my lap that I realized who Steve was. I told Charlie the next day. He put his hand on my shoulder and laughed."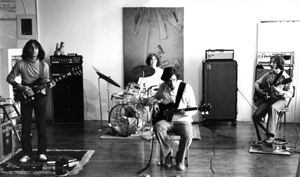 Paul's band Bakoda formed at Franconia College. They re-grouped after College playing bars, clubs, and colleges between late 77 and early 1981. Paul became Woody Phifer's apprentice in mid 1981, and worked with Woody through late 1983. Woody offered Paul the gig because they got along and he knew Paul was already influenced by that summer at Guitar Labs. By then LoBue & Novak had moved to San Francisco, and Phifer had accumulated quite a few notable clients of his own (Doc Powell, Vernon Reid and Ronnie Drayton) to name a few. Paul indicated he was still a novice but Woody generously invested the energy to train Paul and put him to work. During that span Phifer passed on to Schwartz some of his vast experience including that, which had been passed to him thru LoBue, DiMarzio and Jimmy D'Aquisto. In late November 1983 Woody decided to move his shop out of NYC. Paul stayed and started his company under the name Peekamoose, a ski trail he'd spent a lot of time on as a Kid.

Paul is now a well-known Luthier in NYC as comfortable on Arch Tops as Vintage Solid bodies and everything in between. Peekamoose is known for it's: custom instruments, fret work, restoration/repairs, plus warranty support of many major brands. In 1985 Paul installed his PLEK machine so he'd have more time to design and build instruments. Paul said: Having a Plek is a bit like doing an MRI on a guitar. Plus, I can tell it what to grind as it I was doing it by hand. Ultimately it comes down to skill. You have to know how to do great fretwork before owning a Plek if you want the same results using one. The machine is an amazing tool but does not know what to do on it's own. If it wasn't for Phifer I would not have learned the roots of what is important in fretwork, or have been able to hone my skills over the last 28 years. Phifer and I have discussed the qualities of the Plek. Woody still does his frets by hand and they are wonderful. There are technicians and there are artists, but regardless of the tools we use, it's more fun being an artist."