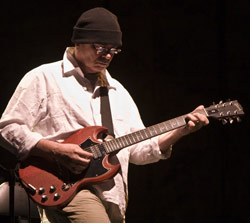 Steve "The Deacon" Hunter, born 1948 in Decatur, Illinois, is an American guitarist best known for his collaborations with Lou Reed. He first played with Mitch Ryder's Detroit, beginning a long association with record producer Bob Ezrin.
In the early seventies, he appeared on four Alice Cooper albums that Ezrin produced. In 1973, he was on the final two albums recorded by the Alice Cooper band, Billion Dollar Babies and Muscle of Love. When Alice Cooper became a solo artist the following year, Hunter followed and appeared on Welcome to My Nightmare. He also played on Peter Gabriel's self-titled first solo album, which was likewise produced by Ezrin, in 1977.
His first collaboration with Lou Reed was for the Berlin album. He also played in the live band captured on Reed's live albums, Rock 'n' Roll Animal and Lou Reed Live. Reed and Hunter are currently working on a new live version of Berlin.
Other artists Hunter has worked with include David Lee Roth (in the mid-1990s), and Tracy Chapman. He also contributed music to and is featured on the soundtrack of the film "The Rose", starring Bette Midler.