Another terrific craftsman was George Metritikas who was a superb carver. Novak indicated that he had done an incredible rope covered carved guitar for LoBue.
Di Marzio came to LoBue with basic electronics know how and LoBue showed him what he wanted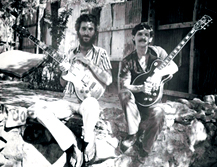 Pete Fine With Maple Cap Doublecut
done. In short order, DiMarzio had a knack for pickup design and Bill Lawrence still a close friend to LoBue, took him under his wing. The clients would tell LoBue what they wanted and DiMarzio through his own ingenuity and advice from LoBue and Lawrence designed some exceptional pickups. Early at Thompson Street DiMarzio started to work on his own from his basement. He would then take them in to LoBue for trial. While working with LoBue, DiMarzio developed the pickup which would be he Super Distortion, one of the most successful pickups in Rock history. Di Marzio, president of Di Marzio Pickups has become one of the preeminent pickup designers in the world. Steve Blucher who spent quite a few years with LoBue is now Di Marzio's right hand man at Di Marzio.
Early on LoBue made a double neck for Rick Derringer. This guitar was later stolen.
A later double neck guitar was often attributed to LoBue. This was the famous double neck guitar made by electronics wizard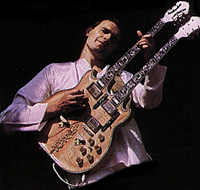 John McLaughlin with double rainbow Rex Bogue Doubleneck Rainbow guitar
Rex Bogue for virtuoso John McLaughlin. In an interview with Bogue he indicated that he was so taken by McLaughlin's playing that he approached him asking to make him a guitar. McLaughlin suggested a double neck. Bogue, a freelance designer
was said to be able to make a gadget or a pickup that could everything but fly across the room. Bogue teamed up with acoustic luthier Ren Ferguson and over a period of about 2 years made
this beautiful guitar known as the "Double Rainbow" completed in late 1973 or early 1974. This guitar bears striking resemblance to earlier guitars built by LoBue although the "Double Rainbow" was substantially more ornate.