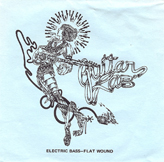 LoBue Guitar - Strings
Good friends and frequent visitors to the Guitar Lab included Matt Umanov who built the prototype Plexiglas guitar for Dan Armstrong.
Umanov remembers LoBue as a great guitar builder, a good friend and the owner of an 8mm movie projector and bedroom slippers once owned by Basil Rathbone (this has not been confirmed but curious).
The Guitar Lab even sold store brand Guitar Lab strings.Wendy Simmons Taylor a professional bass player, lived above the
Guitar Lab in the early 1970's when it was on Thompson. She was good friends with LoBue while he was there. She kindly supplied a package of Guitar Lab Strings that she still had on hand for our use in this site. She indicated that LoBue helped her to acquire a Dan Armstrong plex bass from his old friend.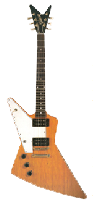 Rick Derringer 58 split head explorer
Rick Derringer had his ultra rare 1958 "split head" Gibson Explorer coil split by Guitar Labbut then decided that he was concerned to have it stolen on the road so he had LoBue make an Explorer like guitar for him. He indicated that it was a 22 fret guitar joining the body at the 19th fret and that it might even be better than the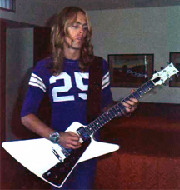 Chuck Ruff with "Johnny Gale" explorer
Gibson. It had Gibson Schaller machine heads, and humbucker pickups. Apparently LoBue took older Explorer pickups and rewound them with better gauge copper wire and a better magnet. LoBue also bored out all twelve adjustment holes so that the screws could be raised as high to the strings as possible. Derringer indicated that it created a really loud and good sounding guitar. He also indicated that it had a binding and was made of birch. For this reason (weight) it was a little smaller in thickness but it was also a little treble heavy. It also had a Schaller bridge which was better for intonality due to superior adjustability. Additional Explorers were made at this time. The first, made by LoBue guitars has the LoBue crescent moon logo on the headstock, block markers on the fretboard and is made of birch. A second was built for Neal Posner (stage name Johnny Gale) but later made its way back to the Guitar Lab and set up for Chuck Ruff, ex drummer for Edgar Winter and a fine guitar player.It was painted white and the mahogany grain feller bled through a bit so it had an unusual but beautiful finish.