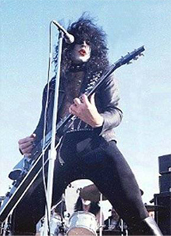 Newspaper ad for Phantom of the Opera, starring Paul Stanley
Before joining Wicked Lester, Paul Stanley was in a local band, Rainbow (not to be confused with Ritchie Blackmore's Rainbow) and Uncle Joe. Through a mutual friend of Gene Simmons, Stanley joined Simmons' band Wicked Lester in the early 1970s. The band recorded an album in 1971, but as of 2005 it has never been officially released (although songs from the album appeared on Kiss's 2001 box set). Wicked Lester soon fell apart and Stanley and Simmons placed ads for a drummer and a guitarist in various New York papers. This resulted in Peter Criss and Ace Frehley joining the group, and they named themselves Kiss. Kiss released their self-titled debut in February 1974.

Paul's persona in Kiss is "The Starchild." Wearing Spandex and platform boots, Stanley's persona is that of a Don Juan-esque lover, combining effeminate elements with elements of extreme masculinity, rather than mere androgyny. Although Paul's voice is generally very soft and eloquent during normal conversation, he uses a specific "stage voice" which is like a "Rock N' Roll Preacher" unlike most leading rock frontmen, he gets the crowd to join the band in many of their classic hits and also tends to give a speech or "scripted" story for certain songs (i.e. having sexual encounters with nurses and other women he's met on tour and how much he supports U.S. troops overseas) much like Gene Simmons adopts an animalistic growl on stage for his demon persona.

In his book Sex Money Kiss, Gene Simmons admits that Paul was the driving force for Kiss during the makeup-free 1980s, while Simmons was feeling lost without his demon makeup and attempting to launch a film career.